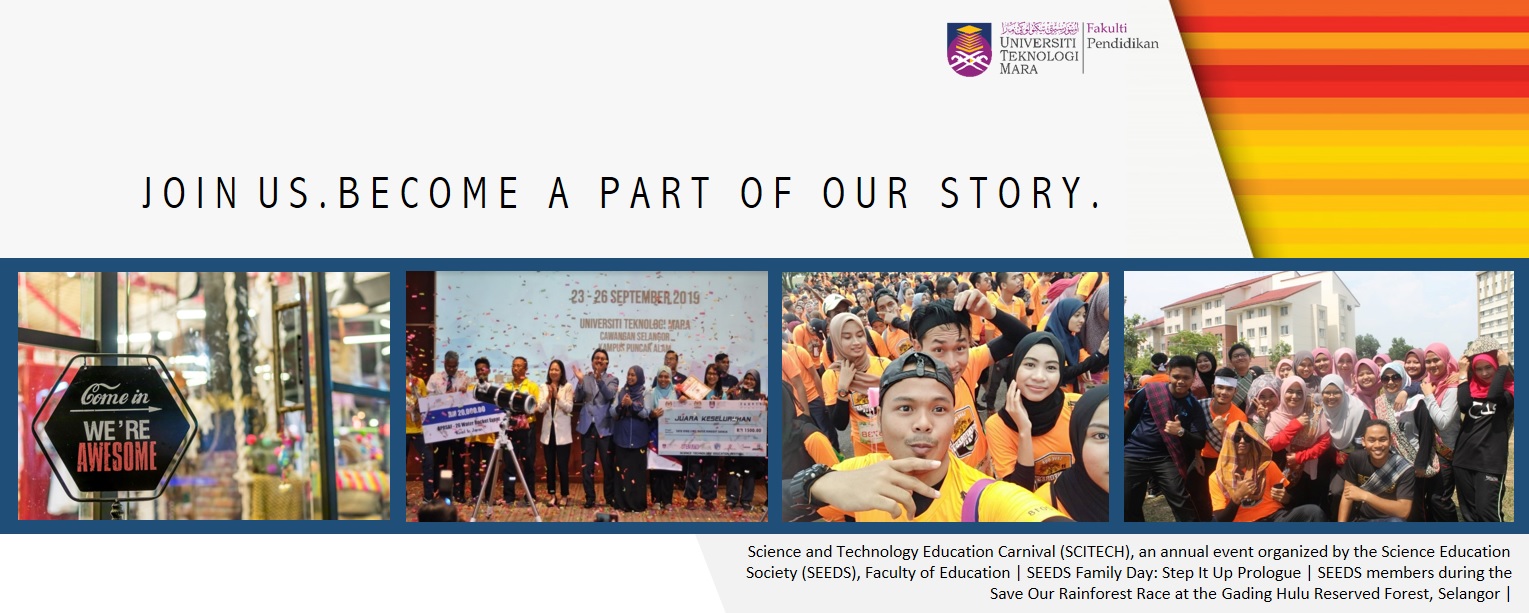 Bachelor of Science Education (Hons.) Biology | MQA/SWA13919 | UiTM Code  ED247 | UPU Code ET11 |
Bachelor of Science Education (Hons.) Physics | MQA/SWA12601 | UiTM Code ED248 | UPU Code ET12 |
Bachelor of Science Education (Hons.) Chemistry | MQA/SWA12603 | UiTM Code ED260 | UPU Code ET13 |


 Program Descriptions
The Bachelor of Science Education (Hons.) Biology/Physics/Chemistry are each a four-year program designed to produce knowledgeable, skillful, and qualified Bumiputera science educators. These programs focus on the areas of science particularly emphasizing on the content of Biology/Physics/Chemistry. Knowledge related to the components of education covering current pedagogical theories and practices in the teaching and learning of science is emphasized upon to ensure credible and qualified educators are employed at the various educational institutions including secondary schools, matriculation centers, public and private colleges.
Career Prospects
Upon completion, students who wish to work as educators may join schools (such as government schools, private schools and international schools), colleges and higher educational institutions (such as polytechnic colleges and international colleges) as well as tuition centers.
Entry Requirements
Candidates who wish to join this program are required to fulfill the following conditions:

i.    SPM/SPMV with a minimum of FIVE C including Additional Mathematics (for Mathematics Majors); Biology/Physics/Chemistry
      (for Science Majors); Mathematics; Bahasa Melayu; English and ONE other subject.
ii.    Diploma from UiTM (related field) with a minimum CGPA of 2.50 or other recognized institutions (related field) with a minimum
      CGPA of 3.00
      OR  STPM with a minimum CGPA of 2.50
Biology Major: 3 principal passes including Biology, General Paper and ONE  of the followings: Mathematics, Chemistry or Physics
Physics Major: 3 principal passes including Physics, General Paper and ONE of the followings: Mathematics, Biology or Chemistry
Chemistry Major: 3 principal passes including Chemistry, General Paper and ONE of the followings: Mathematics, Biology or Physics
      OR  Ministry of Education Matriculation/PASUM/Asasi UiTM/Asasi KPM with a minimum CGPA of 2.50 AND a minimum of
             Grade C (2.00) in THREE subjects which are Biology/Physics/Chemistry including Mathematics/Engineering Chemistry/
             Engineering Physics
iii.   Malaysian University English Test (MUET) with a minimum of Band 2
iv.   PASS the Malaysian Educators Selection Inventory (MEDSI) test
v.    PASS the interview session carried out by the Faculty of Education, UiTM
Academic Pathway after Bachelor of Science Education (Hons.) Biology/Physics/Chemistry
Graduates who wish to further their studies may enroll into the following postgraduate degree programs at the Faculty of Education:
Master of Education in Educational Management and Leadership

Master of Education (by Research)
For enquiries and/or more information:
Phone               603-3258 4900/4922/4990
Fax                   603-3258 4994
Email                This email address is being protected from spambots. You need JavaScript enabled to view it.
Address            Faculty of Education
                         Universiti Teknologi MARA (UiTM) Selangor Branch
                         Puncak Alam Campus
                         Levels 5&7, FSK Building 1,5
                         42300 Puncak Alam
                         Selangor