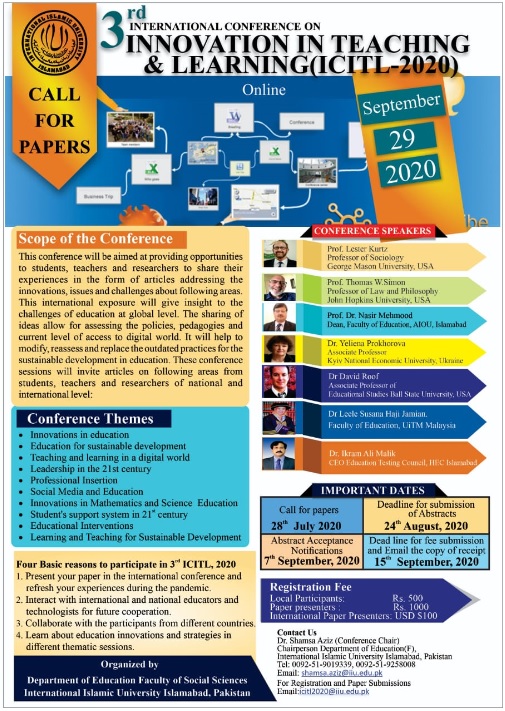 Pensyarah Fakulti Pendidikan Pembentang Ucaptama ICITL2020 Anjuran International Islamic University Islamabad (IIUI)
Setinggi-tinggi tahniah kepada Dr. Leele Susana Jamian, Pensyarah Kanan Fakulti Pendidikan di atas pembentangan ucaptama beliau di 3rd International Conference on Innovation in Teaching and Learning (ICITL-2020), pada 1 Oktober 2020. Dr. Leele telah membentangkan secara atas talian kertas kerja bertajuk 'Innovative Leadership: Decision-making Styles. Strategies 2.0 and 3.0 Frameworks for the 21st Century Sustainable Leadership amongst Deans and Academic Leaders in Higher Education'.
ICITL-2020 telah dianjurkan oleh Department of Education, Faculty of Social Sciences, International Islamic University Islamabad (IIUI), Pakistan. Objektif ICITL-2020 adalah memberi pendedahan kepada pendidik, pelajar dan penyelidik dalam bidang pendidikan tentang isu-isu pendidikan yang perlu direntangi di peringkat global. Berjaya menghimpunkan barisan pembentang ucaptama dari Eropah, Amerika Syarikat dan Asia, I-CITL2020 mengupas isu-isu berkaitan akses kepada polisi, pedagogi dan akses serta impak dunia digital.
International Islamic University Islamabad (IIUI), Pakistan, merupakan rakan kolaborasi Fakulti Pendidikan. Bermula dengan lawatan rasmi wakil-wakil universiti berkenaan ke Fakulti Pendidikan pada September 2019, pelbagai lagi program kerjasama telah dan akan dilaksanakan di masa akan datang merentasi akademik, penyelidikan dan mobiliti.
Tahniah sekali lagi kepada Dr. Leele Susana Jamian di atas kejayaan beliau melonjakkan nama Universiti Teknologi Mara di pentas global. Semoga terus mengharumkan nama Fakulti Pendidikan dan UiTM dan semoga terus mencapai kecemerlangan.